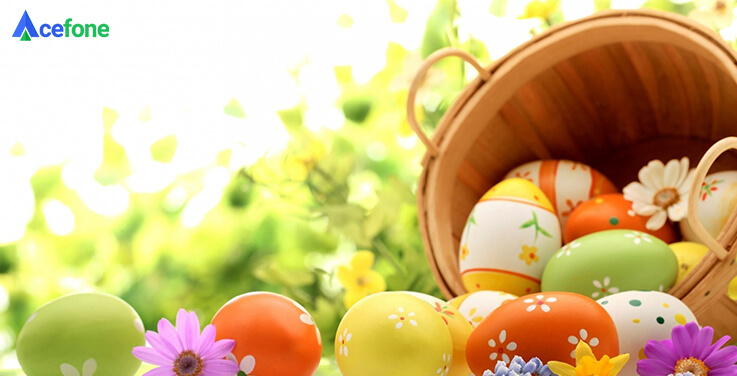 Festivals play an important role in bringing together customers and building strong relationships. Seasonal marketing, an umbrella term used to describe this endeavour, attracts consumers and boosts business sales. 
One can easily say, holidays and celebrations are always great motivators to spend more. And most businesses will leave no stone unturned to grab attention. 
According to this NRF survey, the average spending on Easter during COVID-19 was estimated to be $179.70, making it to a skyrocketing no. of $21.6B of total spendings. And this is during a pandemic!  
With Easter around the corner, it is time to leave your mark on the minds of your audience and make the most of this festive season.  
So, what are some impactful ways you can communicate your offers to your customers? It is best to have your promotions running on all mediums where your target audience is. Using cloud communication, you can instantly connect with your customers, manage individual promotions and answer all queries. 
Here, we have listed a few ways you can provide promotions using the cloud to your customers.
Social media is adept at connecting customers from across the globe irrespective; bringing in people of different ages, or similar interests even. 
When you have decided to provide seasonal news, special offers,  and promotions for Easter, posting detailed content on your official social media page is a good idea. Your target audience can easily make the most of it.
Try offering prizes or gifts to encourage engagement. Detailed blogs, gift ideas, quizzes, polls, and of course, holiday offers are a great way to boost traffic on your webpage. This approach improves customer interaction and also helps kindle a sense of interest for your brand.
2. Initiate an SMS campaign
SMS broadcasts can help target a particular set of your customers. While Easter is a deeply religious holiday, it is also a fun time for families and children to spend together. 
An SMS campaign can talk about what this holiday means to your company. You can also offer freebies or discounts on certain products purchased during the holiday. 
Furthermore, SMS broadcasts that use cloud technology come with several unique templates. You may mix and match these predefined templates to increase their appeal. This approach keeps you trending and connects with your customers based on the seasonal mood.
3. Send warm visual content
Visual content influences customers more. Make use of this medium on the cloud and try striking the right chord amongst your target audience using heartwarming visual messages.
Create a story or make a video. These will not just attract customers but also help them understand your brand better. They will know that your brand values relationships and will strive to nurture customer relationships too. 
You may fetch customer information from your CRM and send this visual content through a centralised communication system like the cloud.
4. Celebrate love through photos
Any celebration is incomplete without photographs. Start by asking your customers to participate in a small activity. You can deploy an email campaign—on the cloud—to measure its performance and customer engagement levels. 
Your customers can share their moments of celebration with you and you can shortlist the best of the best. Next, you club these with an offer on their next purchase or give out gifts. 
You can also, with consent, share these winners on your social media and online forums with a few lines on how the customers feel. This motivates existing customers and prospects to engage with your brand again and again. 
5. Inform customers through IVR
The first message a customer connects to in a contact centre is the Interactive Voice Response (IVR). This system directs the incoming customers to their desired department by prompting a few questions through punching in appropriate numbers assigned to these options. 
Similarly, you may opt to create a specific option targeting Easter. Customers can get the latest information and guidance regarding any running offers or contests. 
This kind of IVR message must be planned properly. Giving out warm wishes, sharing information in a simple manner and connecting him to the contest is the best way to go about it. The idea is to create a sense of curiosity so that they seek out your seasonal offers. 
However, you should note that not all your customers will be interested to participate in these promotional contests. Ensure that you give them the choice. They may skip the promotional offers and carry on with their regular interactions too.
You should not leave behind any means to communicate about the promotion or offer in place but ultimately it depends on the customers to make use of it.
6. Show your love to loyal customers
Loyal customers play an important role in the growth of your business and you must reward them continuously. 
Easter can be one such occasion. Cloud communication mediums offer a centralised repository of information. You may easily obtain customer information based on their period of association with your brand. Celebrate these customers across platforms and mediums this Easter.
For example, you should make these customers feel special by declaring them as your most valued customers. Create posts on social media platforms, use video, audio, and text SMSs to campaign about how these customers are special to you.
Furthermore, you should consider offering special gifts to these customers. This may include any of the following:
Double their reward points.

Offer Easter-themed gifts on purchases. This should feature how your brand considers them special.

Provide free shipping charges or waive off a percentage of taxes on next purchases. 
Stress on how exclusively these offers are meant for your loyal customers. This way these customers will feel noticed along with encouraging other customers to join your bandwagon.
Wrap Up
Easter is an occasion to celebrate new life and family values. This is true for businesses also. You should ensure to celebrate your customers and the trust they show in your brand. Hopefully, the above-mentioned points throw light on the various ways cloud communication can be used to treat your customers this festive season.

Olivia is an outgoing person who enjoys writing, is an SEO enthusiast, and often interacts with others in intellectual conversations. She enjoys listening to music in her free time. Connect with her on Linkedin
https://www.acefone.com/blog/wp-content/uploads/2021/03/easter-offers-for-customers-with-cloud-communications.jpg
376
737
Olivia Trott
https://www.acefone.com/blog/images_acefone/logo.png
Olivia Trott
2021-03-31 11:12:36
2023-03-21 08:37:12
6 Egg-cellent Ways To Promote Easter Using The Cloud