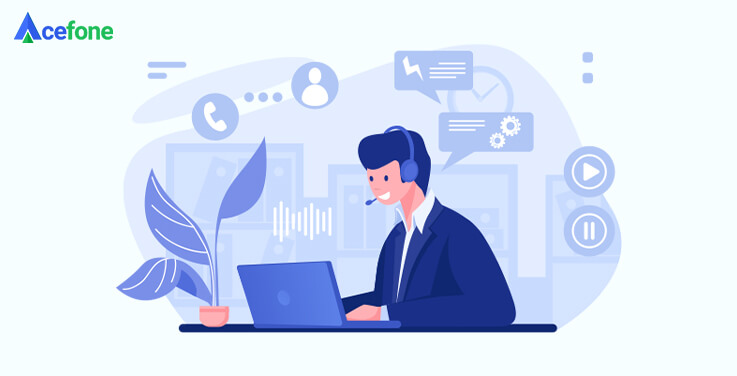 Phone lines ringing continuously. Your representatives are busy speaking to callers back-to-back. The caller queue is building and customers are waiting impatiently to connect with your agents. 
This reads like a typical contact centre scene.
But what if your agents are not able to handle the volume of calls? In this scenario, your customers might become agitated. They might warn your agents about giving poor reviews. Your agents may apologise but might have no actual solution to solve this crisis. 
But who is at fault here? How can this be better managed?
You should note that your contact centre is not just a place where customers clear their doubts but also a major touchpoint for you to showcase your brand as reliable. 
Contact centres help you reach out to your customers, understand their problems and demands, and even allow you to fine-tune your products and services based on their requirements. 
So how can a hosted contact centre make a difference? Let us find out.
According to a study, the contact centre market worth is estimated to be $72.3 billion by 2027.
What is a hosted contact centre?
A hosted contact centre, as the name refers to, is hosted or functions on the cloud. While traditional contact centres have their phone systems and databases maintained on-premise, a hosted contact centre is maintained off-premise by a third-party service provider. 
Hosted contact centres score over traditional contact centres as they provide centralised access to information along with being highly cost-effective. 
Here, we have consolidated a few features your hosted contact centre must have to earn a competitive edge.  
1. Interactive voice response
Interactive Voice Responses (IVR) greet your callers with automatic greetings that are already programmed. They are the first system your customers may come in contact with and therefore these automated responses must be tailor-made to their requirements. 
These cloud-based responses help your callers select their type of service by punching appropriate, designated numbers from the menu. The caller is automatically directed to the specific department they need to contact. This saves both the agents' and the caller's time. 
Furthermore, hosted interactive voice responses are customised and developed by service providers in a way that they can handle calls with simple queries. For example, if a caller has issues with finding your website or product page, the IVR can guide them with the appropriate website link. 
The customer will not need to wait to speak to an agent. This saves time and also helps your agents to focus on other complicated customer concerns that need their expertise. IVR is emerging as a self-help option that improves the degree of customer service offered to a great extent.
2. Automatic call distribution
This feature helps your contact centre route calls efficiently. Automatic call distribution in a hosted contact centre enables the automatic routing of calls based on demands and the number of customer calls. It helps in the systematic handling of calls. 
A hosted contact centre also allows you to modify the call distribution or routing of calls. A few ways you can route calls are based on performance, location, and idle time. 
For example, a caller from France will prefer to converse in their native language than in English. This call can be directly routed to a French-speaking representative for better customer experience. 
Say, if this call is attended by an English-speaking agent and then directed to a French-speaking agent, the time and effort invested by your agents are doubled. Cloud-based contact centres with automatic call distribution understand the location and comfort of the caller thereby eliminating this wastage of time.
3. Skill-based routing
Customer support representatives are categorised based on several criteria. A few are their skills, demographics, speaking capabilities, and expertise. When a caller connects to your hosted call centre, IVR prompts the right type of questions to understand the caller's requirements. 
Your hosted contact centre system then directs the call to the appropriate agent from the right department. For example, consider a caller contacting you for more information about your products and services. It will not be fair if he is connected to an agent resolving technical issues. Instead, he should be briefed about product updates and offered more information from your repository. 
This approach helps improve the rates of the first-call resolution, boosts customer satisfaction, and eliminates chances of wasting the time of both the customers and your agents.
4. Call recording capabilities
A hosted contact centre consists of several agents. These agents may differ widely based on their potential to attend calls and the approach they use to solve customer issues. However, your agents must use the quickest and best way to resolve customer issues. 
To get a sneak peek into this, hosted contact centres come with call recording capabilities. All the calls are recorded in real-time and can be used to review the performances of your agents. This capability helps identify bottlenecks in the way your agents attend calls along with finding agents who need training and help to improve their performance. 
Again, call recordings can be used to offer training to new agents. It helps them obtain a real-time experience of what to expect even before they hit the working floor. 
5. Call tracking and monitoring
Tracking and monitoring the performance of your contact centre is as important as setting up one. Issues may arise at any point time and it is needed that you stay on your heels. There may be instances when your agents leave calls unanswered or fail to satisfy customers repeatedly. Call tracking and monitoring capabilities help you identify these scenarios and find a workaround. 
Moreover, this capability helps you recognise technical glitches at the right time. You may monitor calls for repeated issues. This will help you find the hiccup and rectify it promptly. Also, hosted contact centres with tracking and monitoring abilities enable you to gauge individual agent performances.
6. Ability to integrate with CRM
Access to relevant information is the key to the success of your contact centre. Only if your agents are provided with the required information will they be able to resolve customer issues backed with the appropriate data.
Hosted contact centres allow the integration of your system with the CRM. This integration enables the agents to obtain all the necessary customer information on a single page. 
For example, consider a situation where a customer has come with a technical issue. When referring to the CRM, your agent finds that this agent has been trying to resolve this issue for the last few months. 
Your agent will be able to sense the mood of the customer, derive conversational history from the CRM, and start from where the customer left in the last call rather than asking for the same information again. 
Integration with CRM helps your agents to offer contextual experiences, saves time, and equips your agents with the right information thereby boosting customer satisfaction.
7. Obtain analytical reports
Deriving reports from data is as important as generating them. When your hosted contact centre comes with capabilities to offer interactive analytical reports, it helps you figure out the call volume at different periods, repeated callers or new callers, and the traffic from different locations. 
This information can help you to make important staffing decisions, scheduling agents, and gauging the performance of your call centre. For example, if you have a distributed contact centre, a report at the end of the month can help you compare and understand the performances of your contact centres. 
Again, you can also recognise issues that are location specific and work towards rectifying them. Furthermore, a hosted contact centre can help you with reports that can be accessed centrally by stakeholders to improve accountability. 
Parting Words
Hosted contact centres have become the norm. With the needs of customers increasing with time, you must scale the capabilities of your contact centre based on shifting trends. Hosted contact centres enable you to be flexible and equip your contact centre to deliver seamless customer experiences. Hopefully, the above-mentioned points offer a peek into a few of the features you should be including in your hosted contact centre.

Olivia is an outgoing person who enjoys writing, is an SEO enthusiast, and often interacts with others in intellectual conversations. She enjoys listening to music in her free time. Connect with her on Linkedin
https://www.acefone.com/blog/wp-content/uploads/2021/02/features-of-hosted-contact-center.jpg
376
737
Olivia Trott
https://www.acefone.com/blog/images_acefone/logo.png
Olivia Trott
2021-02-03 07:31:53
2023-03-23 11:22:46
7 Must-Have Features of a Hosted Contact Centre