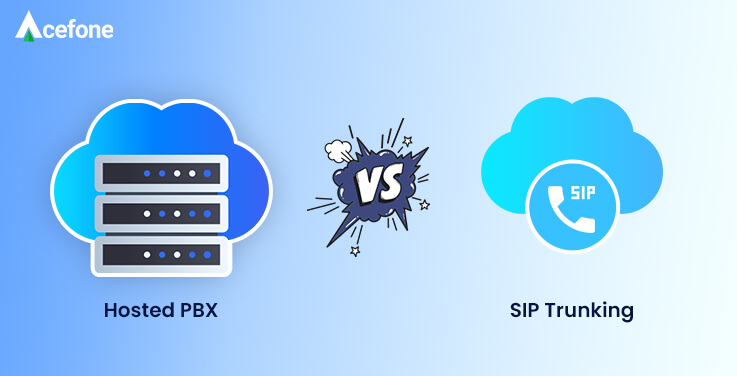 Hosted PBX (Private Branch Exchange) and SIP (Session Initiation Protocol) Trunking are different solutions but united in bringing a range of exciting features to business communications. If you want to enjoy the benefits of VoIP (Voice over Internet Protocol), the first question you'll need to ask is whether to opt for hosted PBX or SIP trunking.
This article will explore what hosted PBX and SIP trunking really are, their differences, and why these differences matter. When switching to VoIP, it's important to make an informed decision and choose the most suitable system for your needs. So, take some time to look carefully through the main differences and reach out to our team if you're left unsure of your requirements. 
Read on to find out the amazing benefits of both Hosted PBX and SIP trunking for modern businesses.  
What is hosted PBX?
A hosted PBX system works entirely on the cloud. These phone systems are managed off-site by a third-party company. This allows businesses to connect to the office network from anywhere in the world and at any time of the day—as long as they have an Internet connection.
Additionally, hosted PBX systems can be accessed from multiple compatible devices, making it possible to switch from one device to another seamlessly. This means that hosted phone systems lend themselves to working remotely, or working on the move.
Hosted VoIP systems also make it unnecessary for businesses to deploy specialised infrastructure or equipment. They can simply enjoy enterprise-grade communications wherever they are. This also eliminates the need for a physical office space, and can be a great solution for smaller businesses that still want to achieve a level of professionalism.
What is SIP trunking?
 A SIP trunk connects your existing telephone system to the Internet. This means that you can use your existing hardware and still enjoy the benefits of VoIP—all you need is a virtual connection between your telephone equipment and a VoIP service.
SIP trunking is ideal for businesses that have made significant investments in their telephone equipment and would like to manage an in-house phone system. Businesses with larger and more experienced IT teams may lean towards it as they have the resources to ensure smooth operations without having to rely on external agents.
 A SIP trunk will introduce your business to a more reliable communication system and many exciting features as compared to a traditional phone system. 
How do SIP trunking and Hosted PBX differ?
While both these services have their similarities, such as relatively low set-up costs and similar monthly costs, they do differ quite a lot in other areas. To make an informed decision, you must compare the following elements and see which solution best suits your business needs—now and in the future.
1. Maintenance and ongoing costs
If you choose SIP trunking and connect your existing telephony equipment to the Internet, you are likely to receive a monthly maintenance bill. Further, if your IT team does not have the expertise to deal with your advanced phone system, you'll need to hire an engineer for updates, repairs, and general upkeep.
Although maintenance can sometimes be included in your contract, emergency call-outs for repairs or anything outside of your contract could end up being extremely costly.
Hosted PBX differs from SIP trunking in this aspect—all maintenance and updates can be completed remotely by your provider, meaning no extra costs for you! You just need to ensure your devices are working effectively and everything else is taken care of by your provider. Without the burden of heavy and expensive infrastructure, you are much less likely to run into unexpected problems or costs.
2. Growth and flexibility
With SIP trunking, you can add lines to your phone system as and when you need them. However, adding lines here also requires the addition of new (and often expensive) hardware, which can limit free hiring. 
With a hosted PBX system, you can easily add and remove lines online, and new recruits can connect to your phone system from their own devices immediately. There is no need for any extra hardware.
If your business is seasonal and you need extra hands for certain periods of the year, a hosted PBX would be the better choice. You can add and remove these temporary workers at will without the hassle of dealing with hardware, as is the case with SIP trunks. 
It's also notable that SIP trunking provides a greater degree of flexibility in comparison to a traditional phone system. It allows employees to access a range of VoIP features such as video conferencing, call recording, and more. These capabilities allow your communication system to be used more flexibly throughout your business. 
These same capabilities are accessible from a hosted PBX system as well, with the added benefit of not requiring hardware. So you could essentially relocate or simply add and remove lines and features with total convenience.  
If your business is heavily reliant on a static physical office without much movement of employees, a SIP trunk would be perfect for you. You can use your existing phone hardware and utilise all the resources of the office building.
On the other hand, if you're considering expanding to allow remote workers to join you, need employees to travel for work, or don't have a set office building, then a hosted PBX system may be the better option for you. 
Put simply, both solutions can work extremely well depending on your business requirements!
3. Recovery in times of crises
Another question you must ask yourself is: what if something happened to your office premises? Or what would happen if you couldn't get to your workspace for any reason. Would business come to a halt? If the answer is yes, then you should look for a solution that is the safest in times of crises.
Many people were thrown into a work-from-home model during COVID-19, with lockdowns across the world. Luckily, both SIP trunking and Hosted PBX came to people's rescue. Both these solutions can handle such a transition with ease—SIP trunking by forwarding calls from the office phone and hosted PBX with its ability to work on any compatible device. 
However, if something were to compromise your office building, a SIP trunk may not offer the protection needed to get you back up and running. An engineer will need to come out and complete the repairs which can take a lot of time and can be extremely costly. 
In contrast, a remotely hosted PBX system can have you back on your feet within seconds so your business is never interrupted. 
As a business owner, you must think very carefully about how quickly you can recover and have a solid plan in place just in case something unexpected happens.
Why do these differences matter?
It's quite simple. One decision can be the difference between your business getting the best out of its hosted phone system or not! Investing in any change or new phone system needs a lot of careful consideration as it would determine just how smoothly your operations will run in the long-term.  
What suits your business now, may not suit you in the future. It's important to consider all the differences and ensure that whatever solution you choose, it will work for you as your business grows and expands, not just at the current time. 
If you need some help figuring out which solution is right for your business, don't hesitate to call our friendly team on 0800-084-3663 to discuss your business needs. You can even email us at [email protected] and we'll get right back to you.

Acefone provides a broad range of cloud communication services to businesses of all sizes, which includes Hosted Phone Systems, Free Phone Numbers, and Cloud Contact Center Solutions. Being the UK's leading provider of VoIP service provider, we always strive to provide excellent customer service and high-quality custom solutions to our customers.
https://www.acefone.com/blog/wp-content/uploads/2020/12/hosted-pbx-vs-sip-trunking.jpg
376
737
Acefone Editor
https://www.acefone.com/blog/images_acefone/logo.png
Acefone Editor
2020-12-09 11:16:43
2023-03-24 11:31:09
Hosted PBX vs SIP Trunking: Which One is Better For Your Business?