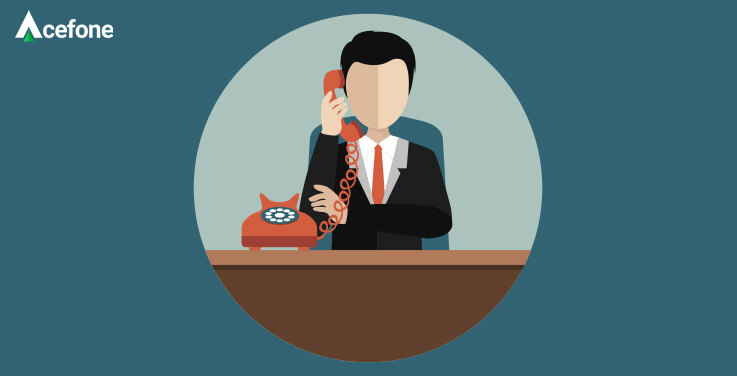 When customers drop a call while waiting to get connected to an agent, that call is considered as an abandoned call. Whatever may be the reason, abandoned calls leave a negative impact.
A higher rate of abandoned calls means a greater number of dissatisfied customers.
The rate of abandoned calls is an important performance indicator, and it also includes answered but abandoned calls during outbound campaigns. You should note that this assessment does not include unattended calls.
According to this report, call abandon rates between 5% and 8% are normal. Depending on the industry and time of the day, these rates can go as high as 20%.
Having said that, let us understand more about abandoned calls.
What is the rate of abandoned calls?

 
The abandonment rate of calls is defined as the percentage of calls that were disconnected before getting connected to an agent when compared to the total number of incoming calls. This ratio is calculated by dividing the number of abandoned calls by the total number of calls.
How is the call abandonment rate measured accurately?
A few ways to accurately measure the rate of abandoned calls are:
Ensure that you don't include calls that last less than five seconds. They may be misdialled.

Track calls as they enter the IVR (interactive voice response) system rather than counting calls in queues of agents.

Make sure to not double count calls that have been transferred for assistance from one department to another. This will automatically mislead and increase your abandonment rate.

Use your CRM software to accurately track calls and callers. 
Having said that, here are a few tricks to reduce call abandonment rates in your call centre.
1.Communicate estimated call wait time
Communication strengthens customer relationships. It is important to let your customers know the estimated wait-time for a call. This information will help them make an informed decision about waiting to get connected to an agent or to call back later.
An IVR system can help set an estimated waiting time and create announcements for inbound calls. These are played automatically for customers after the system calculates the average waiting time.
Though a few customers decide to disconnect the call after listening to the announcement, others may choose to stay on call.
2. Offer virtual queueing and call-backs
Customer satisfaction scores can be improved by offering an option to receive a call back or self navigate to the information they need.
Incorporating IVR systems and Automatic Call Distributor (ACD) can aid first-call-resolution. They enable customers to reach the right place for the information, thereby reducing the number of repeated calls.
Furthermore, the call-back option helps customers gain control of their time. They are assured of receiving a response from the company soon.
These features help decrease average hold time, increase the bandwidth to attend more calls, and offer the best call centre services possible.
3. Focus on Agent Training
It is important to invest time and funds on stepping up your agents' skills. This will boost their confidence to attend different types of calls swiftly.  Call centres that offer training and classes for their agents can increase their productivity with best practices along with enhancing customer experiences.
Again, offering information about the standards of etiquette will contribute towards reducing call abandonment rates.
4. Reduce average handling time
Reduction in the average handling time will keep the call abandonment rate in-check. You should track the average time spent by agents on calls. The faster agents deal with customer calls, the lesser the waiting time and chances of call abandonment.
However, it is equally important to pay attention to the quality of customer service delivered. You cannot afford to compromise on your customer service quality even if you are in a hurry to move through the queue to the next waiting customer.
5. Extend your ring time
We are all used to waiting through multiple rings before being attended on calls. Use this to reduce your call abandonment rates.
Instead of promptly offering an automated response that asks your customers to keep waiting, let them go through several rings before they enter the call queue. This will reduce their perception of time spent waiting to get connected and reduce the level of annoyance to a certain extent.
6. Provide self-service options
Providing options for self-service can help reduce call abandonment rates to a great degree. A few effective ways of how this can be done are:
Offer voice interactions through IVR that prompt customers to select appropriate options from a predefined menu using their keypad.

Send interactions through emails that include links to forms. These will be filled by the customers with appropriate information.

Send SMS/text messages that ask customers for information and help schedule appointments.
7. Plan appropriate schedules to meet demands
Stakeholders should keep a hold on unpredicted demands. They should be able to identify patterns, in order to have enough agents to deal with a sudden spike in calls. This can be done by either adding headcount or modifying employee schedule.
If you are not able to add headcount, try to track calls and identify patterns of a surge. Maybe it is due to seasonal demand or after a rather attractive marketing campaign. This information will help you effectively manage your workforce.
You may schedule your representatives or forecast shift coverage based on requirements. Sharing resources within teams or expanding your team are a few other ways to meet a higher call flow.
Wrap Up
A low call abandonment rate means reaching out to a greater number of customers. This will help you showcase your call centre as a well-staffed and organised kiosk with a focus on offering convenient and seamless customer experiences.
Hopefully, the above-mentioned points will provide a peek into several ways to control your call abandonment rates and boost customer satisfaction.
To find out how you can use intelligent technology to further reduce call abandonment rates, contact our sales team at 0800-084-3663 or drop an email at [email protected].

Olivia is an outgoing person who enjoys writing, is an SEO enthusiast, and often interacts with others in intellectual conversations. She enjoys listening to music in her free time. Connect with her on Linkedin
https://www.acefone.com/blog/wp-content/uploads/2020/11/tips-to-reduce-abandoned-calls-in-your-call-centre.jpg
376
737
Olivia Trott
https://www.acefone.com/blog/images_acefone/logo.png
Olivia Trott
2020-11-20 05:22:46
2023-03-24 11:48:39
Tips To Reduce Abandoned Calls In Your Call Centre