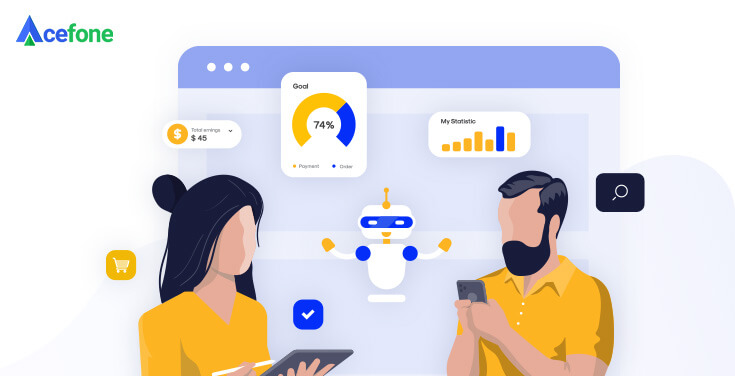 An accountant's life is busy from dealing with clients' finances to onboarding new clients. Accountants rarely have a quiet day, and then, particularly during key financial periods in the year, they might need some extra support.
Accountancy firms can always increase their spend on staffing and equipment. Alternatively, they could also invest in a hosted phone system and enjoy the benefits of hiring remote workers to support them through busy hours.
This is where a digital assistant comes into consideration. Digital assistants can work remotely from any location and connect to your phone system seamlessly. They can do anything an assistant, in person, can do but are much more cost-effective than hiring someone to work on-premise.
This article will explore how a digital assistant can make accountants' lives easier and ensure that they have the support they need in busy times without the overheads.

What is a digital assistant?
A digital assistant is a professional assistant who works remotely. They will connect remotely to your phone system and access all the information like your in-house team, but they will do so from their own compatible device.
Digital assistants can take care of administrative tasks and update customer records right from their phone system. This data is linked to your CRM so all updates are made in real-time, and customer enquiries are logged safely on your online portal.
With access to this information from their own devices, there is no need to purchase new equipment for remote digital assistants; you can simply set them up on their own devices. If you'd like to give them equipment you can, but they would only need a mobile phone connected to the internet, and they are good to go!
Digital assistants can provide customer service too, answering and transferring calls to the correct department. They can give your accountants more time to focus on their roles by answering simple customer questions and delivering fantastic customer service from the moment customers call. 
A digital assistant can do as much or as little as you need, you decide!
Digital assistants provide flexibility in your business
As an accountant, you might find that particular times of the year are busier than others—such as the end of the tax year. If this is the case, you might not need a digital assistant at all times of the year.
Hosted phone systems give you the flexibility to add and remove phone lines when you need to, so you can hire as many digital assistants as you need to support your business at any point. 
With digital assistants working remotely, you are more likely to find suitable people for any temporary roles. You can hire from a talent pool potentially worldwide, with no geographical restrictions. There are always people looking for temporary roles worldwide, and you are sure to never be short of experienced applicants.
You can also increase your customer service hours to whatever you need and create a rota for digital assistants. This means that someone can be online at all times to make any enquiries and answer any queries. Without the need for extending your physical opening times, you can provide exemplary service without spending your profits to keep your office open.
Digital assistants are cost-effective
Digital assistants are a highly cost-effective solution to accountant's problems. Suppose your employees are busy constantly answering emails and calls without getting time to deal with their day-to-day responsibilities. In that case, you could lose business from customers dissatisfied with your service.
Losing customers is, of course, costly to businesses and should be avoided wherever possible. But, you also need to think about your profitability and keeping your business's cash flow running smoothly. A digital assistant can help with both of these issues.
Digital assistants are just paid for their time and don't need any further investment or cause any further costs to your business. It's free to add to your phone system, and you don't need to account for any additional fees involved with giving them space in your office. This means that you can potentially onboard digital assistants for just the cost of their hourly rate.
As they are not generally salaried employees, you can be more selective about their working times. If you find you get many out-of-hours queries, for example, you can ensure they log on from 5 pm onwards to catch these enquiries, or early in the morning to see customers before work. 
How you use digital assistants in your business is up to you, but you can be assured that your overheads will remain unaffected by their presence. They may even increase your profits with the support of your assistant!
Digital assistants can bring in warm leads to your business
Everyone needs support with their accounts, and with more people setting up their own companies, there are plenty of potential customers out there waiting to find the right accountant.
With the help of digital assistants, you can reach out to customers without taking valuable time away from your accountant's daily tasks. By giving your digital assistants a list of potential customers to contact, they can make the initial calls for you and add updates on customers who'd like more information. 
Having this information available to all your staff means sharing leads and following the progress from the first call to securing them as a client. With the time-consuming work taken care of by a professional digital assistant representing your business, your team can focus on converting these leads and getting more clients for the business.
Digital assistants can leave detailed notes in customer accounts so you know exactly what has been covered in each call. They can also follow up with emails for more details, all from their phone system. These notes mean that any accountant following up can see exactly what the customer is interested in and pick up where the digital assistant left off.
Digital assistants give your accountants more freedom
Due to the nature of the businesses, your accountants may need to leave the office to meet with customers. Particularly with smaller companies, leaving the office may mean missed calls and potentially missed customer conversions.
Leaving the office does not need to mean missed connections with customers with a digital assistant. Staff are free to go wherever they need to, safe in knowing that your digital assistant is there to take any messages, answer customer queries and more. 
With the freedom to leave the office without a worry, accountants can potentially secure more clients and deliver a better, more personalised service to customers. This can only mean good things for your business, and of course, more satisfied customers! 
Make accountants lives easier with a digital assistant
Overall, having a digital assistant working for your business is a fantastic way to make accountants' lives easier. With a professional answering calls and queries on your behalf, you can ensure that customers get the information they need and that accountants can focus on their daily roles without distraction.
If you'd like to learn more about digital assistants for your accountancy business, call us today at  0800-084-3663 or email us at [email protected].

Olivia is an outgoing person who enjoys writing, is an SEO enthusiast, and often interacts with others in intellectual conversations. She enjoys listening to music in her free time. Connect with her on Linkedin
https://www.acefone.com/blog/wp-content/uploads/2021/09/how-can-a-digital-assistant-make-accountants-lives-easier.jpg
376
735
Olivia Trott
https://www.acefone.com/blog/images_acefone/logo.png
Olivia Trott
2021-09-06 11:25:32
2023-02-22 10:05:32
How Can a Digital Assistant Make Accountants' Lives Easier?