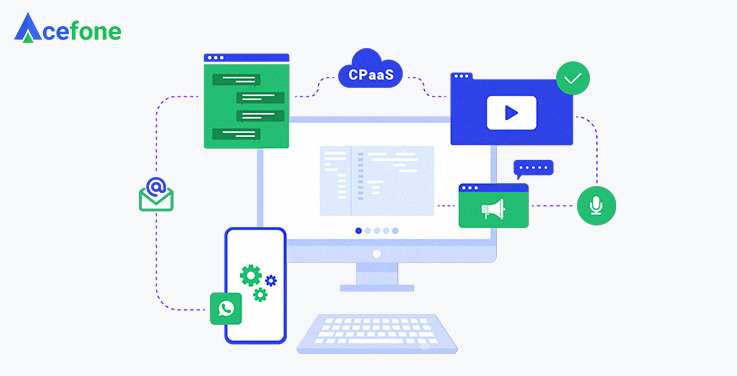 In a world filled with people scrolling, swiping, texting, calling, and downloading on the go, communication tools have become really important for companies to understand and manage consumer expectations. 
The increasingly dynamic nature of consumer behaviour requires more efficient ways for companies to establish and handle communications. This is where CPaaS comes into the picture.
CPaaS allows businesses to quickly add different communication channels—voice, messaging, video—to their customer support framework, without any major overhaul in IT infrastructure. With CPaaS, companies can stay ahead of customer expectations and deliver improved customer support. 
CPaaS has already been increasingly employed by companies worldwide. According to research, the CPaaS market size has grown from USD 400 Million (2015) to USD 8.1 Billion (2019) worldwide and it is predicted to reach USD 17.2 Billion by 2023.
So, what exactly is CPaaS? How is it being used by companies across the world to deliver world-class consumer experiences? 
Here, we will answer all these questions and discuss everything you need to know about CPaaS.
What is CPaaS?
CPaaS stands for Communication Platform as a Service. It is a cloud-based communications tool with the capability of hosting multiple channels in existing software frameworks.
This is possible because CPaaS adds new communication channels in real time by integrating the selected channels with the applications already in use. The cherry on the top—all of this can be done without the incorporation of any additional hardware or backend infrastructure!
CPaaS offers a host of communication channels that can be activated and integrated with your communications stack, which include:
1. Voice (outbound and inbound):
Voice APIs can be integrated into your communication stack to activate outbound and inbound calling. Voice API for outbound calling enables the companies to quickly scale up to rising demands and increase in calling volume.
Voice API for incoming call volume can be configured to dictate the flow for inbound calls. These can then be routed to a specific recipient based on pre-set conditions. This is especially helpful to manage high call volumes in busy seasons.
2. Text messaging (SMS)

:
Text messaging can be easily incorporated into your stack by activating SMS API. After this, companies can send alerts, messages, notifications, and updates to customers through a single click.

If required, you can set this tool to allow the customers to react or respond to your messages. Customer support can utilise this to effectively guide customers in resolving queries.
3. Video and MM

:
The SMS API also allows companies to share multimedia messages including photos, videos, and other media formats. One can even use it for video calling and conferencing services.
The increasing popularity and usage of social media apps, like Whatsapp, make them great tools for increased customer engagement.

CPaaS can be used to integrate these apps with your communication stack for seamless customer interaction. After this, you can use features such as instant messaging, location sharing, media sharing, and read receipts.
5. Virtual phone numbers

:
A virtual phone number is a real phone number that is not connected to any physical phone device. This number can be used to receive incoming calls or dial outgoing calls from a web application.
CPaaS supports virtual phone numbers, which cuts down costs incurred on physical mobile devices. Further, to promote agent and customer anonymity, CPaaS also offers call masking as an elegant solution, protecting customer privacy.
6. AI support:
CPaaS can also be used to integrate AI engine APIs. This helps in supporting multiple capabilities such as voice recognition, TTS (Text to Speech), and other features.
How is CPaas different from UCaaS?
UCaaS (Unified Communications as a Service) is another cloud-based tool used to streamline communication needs for a company.  
It comprises a suite of applications that brings the entire communications network onto a single platform. This is possible via a host of systems or tools, including hosted phone systems, network management tools, conferencing and collaboration tools, and management portals.
From a bird's eye view, both CPaaS and UCaaS seem to be cloud-based multi-channel communication solutions. Both rely on the cloud to provide key communications features to the consumers. However, there are distinct differences in their design and product offerings. In a language we all understand—food—CPaaS is just like an à la carte option while UCaaS is the buffet table.
In other words, CPaaS allows you to choose features based on your requirements and then assembles only those in your final offering. With CPaaS, you can pick and choose the specific APIs that would be added to your current communication stack.
On the other hand, UCaaS is a single platform with built-in communication channels that can be used right away. Barring customisations to the existing services, you cannot add or reduce functionalities in UCaaS.
Both UCaaS and CPaaS offer multiple advantages through their cloud-based communications solutions. 
However, the individual requirements of a company can help them determine which model suits them the most. With UCaaS, smaller companies might end up paying for more services than they require. 
On the other hand, CPaaS might prove to be too costly for a business that needs all the possible communication channels in its arsenal.
How does CPaaS work?
At the core of it, CPaaS relies on APIs that allow various devices to communicate with each other on a specified communication channel. Now, what are these APIs?
API stands for Application Programming Interface. These programs act as a bridge between two endpoints, generally devices, software, or apps, and allows them to interact with each other. 
Once this bridge is set up, data packets can be sent from one endpoint to the other over an existing and underlying VoIP network. This movement allows the apps and devices to develop new functionalities, hitherto unavailable to them.
To make this work, an efficient CPaaS provider is a must. This is so that all APIs and code snippets can be used to add communication functionality to existing frameworks in real-time. The right CPaaS provider, along with their development kits and documentation, will help you extract the maximum benefits from this tool.
Benefits of CPaaS
CPaaS solutions allow the real-time addition of multiple communication channels on the existing setup. This functionality offers several benefits:
1. Cost savings
Earlier, the addition of a new communication channel meant huge infrastructural additions, engineering development, and software maintenance costs. As CPaaS shifts a company from hardware to cloud-based systems, this significantly cuts down CAPEX. This allows you to spend on other avenues.
2. Flexible customisations

In this modern digital era, communication channels and consumer habits are simultaneously evolving. Customers expect companies to reach them on channels that they use in their everyday lives. This requires the companies to adapt as quickly as possible.

CPaaS enables them to do exactly the same by adding new communication channels in real-time. With APIs, CPaaS allows adding functional blocks for new channels to the existing framework.
3. Global scale

Businesses, in order to expand, seek new markets to enter. Traditionally, companies are required to acquire new licenses, set up hardware, fulfil international mandates, and do several other things in order to be ready to conduct business in new locations.

But with the help of CPaaS, these companies can easily scale their operations without any external restrictions. Having their platform on the Cloud grants them an instant, multi-region presence. Additionally, CPaaS enables them to add locally preferred communication channels to their framework.
4. Improved customer experience

CPaaS empowers businesses to add various communication channels to deliver the best customer experience possible. The integration of modern conduits (including social media apps) into the company's existing framework ensures that all consumers can reach the support whenever they need to. 
Some practical use cases of CPaaS
Some of the largest industries now conduct their business communications using CPaaS. Let us try and see how CPaaS has improved the workings of some of these industries: 
1. Healthcare

CPaaS has become very popular in the healthcare sector after the COVID-19 pandemic in 2020. Owing to the necessity of contactless health services, CPaaS enabled several practical use cases to mitigate the situation.

Tele-consulting via Video APIs empowered patients to book video appointments with the doctors, cutting out the need to physically go to the hospital. Patients can also remotely book appointments and refill prescriptions online via multiple CPaaS features. 

Medicos can also use CPaaS solutions to remotely monitor patient performance through connected devices such as bio-sensors and machine readings. Accessing patient history, and reviewing forms are some other features enabled by CPaaS.
2. Banks

Financial institutions can adopt CPaaS to automate a number of customer-centric activities, thus saving time and effort for more complex cases. Customer interactions such as bank balance notifications, OTP alerts, application statuses, and check deposits can be automated and communicated via CPaaS enabled channels.

The entire loan application process can be configured to be completed via multiple CPaaS enabled features. The customer information on online forms, digital payments can be updated in real-time on loan applications. 
3. Retail

The retail sector was another sector that saw huge transformations during the COVID-19 pandemic. With CPaaS, retail establishments were enabled to bring their entire catalogue online through multiple channels. They could send out special discount offers, sale alerts, and other offers based on their previous purchases.

It also provided greater transparency to the entire delivery process. This is because retailers were able to send out real-time delivery updates and confirmation messages to the customers. 
Customers could track their order from the packaging stage through the transit to the final delivery stage. Information such as agent details and expected delivery time also become available to customers.
4. Hospitality

Several hospitality-oriented digital solutions are already in place to enable travellers to book flight tickets or hotel rooms with a click. CPaaS solutions can further enable the hospitality sector to alert travellers through real-time updates on cancellations, delays, reschedules, billing, and offers.

Travellers can also utilise the CPaaS services to perform otherwise manual tasks such as ordering room service, scheduling spa sessions, and requesting on-flight service. 
5. Education

CPaaS can impact the entire education framework at all levels of a child's education. CPaaS can foster a strong parent-student interaction by allowing real-time updates on student performance. CPaaS can also help with the distribution of notes, examinations, and results. Students will also be enabled to schedule doubt sessions with their teachers.

CPaaS can also provide tools for virtual tours of college campuses for counselling and orientation purposes. Students can access their course catalogues as well as recorded lectures through the CPaaS. Instant communication regarding school closings or emergencies can also be utilised by the school management. 
Summing up
In our globalised and digital world, there are no boundaries on how technologies can make our lives simpler. CPaaS is one such technology. Without the need for bulky hardware, CPaaS is able to automate most fundamental operations by taking them on the cloud. This not only helps save money but also saves time and delivers quick and great customer service. 
To know more about how CPaaS and the cloud can be beneficial to your organisation, get on-call with our cloud experts at 0800-084-3663 or drop an email at [email protected]

Olivia is an outgoing person who enjoys writing, is an SEO enthusiast, and often interacts with others in intellectual conversations. She enjoys listening to music in her free time. Connect with her on Linkedin
https://www.acefone.com/blog/wp-content/uploads/2021/08/what-is-a-communications-platform-as-a-service.jpg
376
737
Olivia Trott
https://www.acefone.com/blog/images_acefone/logo.png
Olivia Trott
2021-08-04 09:41:42
2023-02-27 11:12:21
CPaaS 101: Communications Platform as a Service