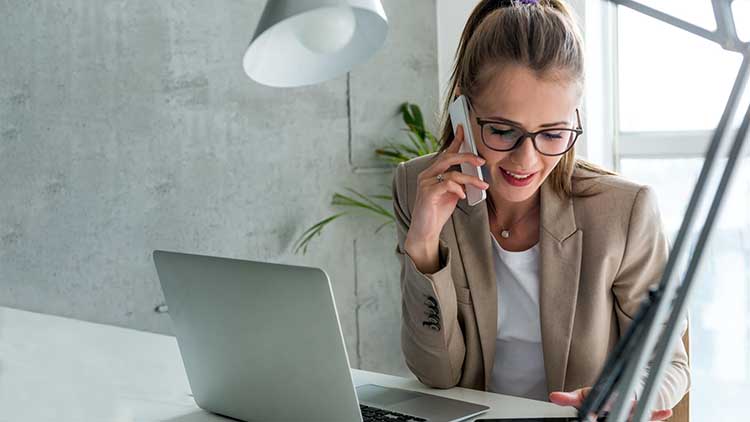 We all know the frustrations of a poor connection—the inability to comprehend voice calls that drop mid-sentence, or worse, missing a message owing to the lack of basic tools. 
Whatever your communications issues have been in the past, Acefone is sure to have the solution you need.
Acefone is the UK's leading and trusted cloud communications service provider. 
This blog will walk you through the various calling features Acefone offers. These ensure easy and seamless calling at all times, no matter your location or time of the day.
Answer calls even when you're not around
An unanswered call could be a missed opportunity for a business. That's why Acefone has a number of features designed to make sure you never miss out on a call or an opportunity again.
If you are out and about, you can divert your calls to either a voicemail or to another device that you can use on the go. 
VoIP works on a number of Internet-enabled devices, so you have complete control over which you want to use—a smartphone, laptop, desktop, tablet, etc.  
With call diversion, you can divert inbound callers to your voicemail when you're unavailable, allowing you to quickly get back to callers when you are free.
Acefone's voicemail is not an ordinary service. 
When a caller leaves you a message on your voicemail, you receive an email with an MP3 file containing the audio of the recording, along with details on the caller and how to return the call. 
This means that you can listen to messages on the go and prioritise calling back people with the most important queries. 
To take this one step further, you could also use an auto-attendant to manage incoming calls. 
Auto-attendants can easily be added to your VoIP system and take messages for you or direct callers to the right person. They make dealing with calls easy and seamless for businesses of all sizes.
However, they are particularly useful for small businesses that want to professionally answer calls even with a small team that might be working remotely. 
Manage calls as they come in
Acefone's features allow you to organise incoming calls, giving you a greater chance of getting the caller to the right department the first time.
IVR (Interactive Voice Response) systems can also be added to your hosted phone system to provide customers with a self-service option. You can feed answers to common queries that callers can access via keypad inputs. 
Moreover, these systems are highly customisable. So, you can add different departments that callers can get routed to, based on their inputs. 
IVR saves time for both the customer and the agent by facilitating accurate transfers and negating the need for redirections. The end result is a smooth support experience for a customer and a more efficient and professional image for your business.
It doesn't end here though.
With real-time call monitoring and detailed analytical reports, you can see exactly the track the volume of incoming calls, identify any bottlenecks and rectify them promptly. This will help you scale up or down and design efficient routing strategies. 
Another useful feature is the call queue. The call queue feature puts waiting for callers in a queue, announcing their wait time and position and even playing important announcements or custom music.   
The call queue feature is a great way to enhance caller engagement and reduce call abandonment. 
When calls are managed as they reach your business, you benefit immensely—from minimum wait times to eliminating agent burnout and delivering superior service. 
Collaborate across the business
No matter where your staff is based or your offices are located, collaboration is simple with a hosted phone system. 
Acefone has a number of exciting collaboration tools, made available to all agents connected to your phone system. Conference calling is one such feature. 
The tool allows teams from all over the world to dial in and work together on a project. Communications are facilitated over an Internet connection, benefitting you with crystal clear audio when it matters most. 
You can also set up call groups to connect entire teams and departments. These groups can be used internally, catering to inter-department tasks, or even externally as a general sales number. 
Call groups make it easy and seamless for anyone to get in touch with different teams in your business. Even when a specific employee is on leave, the caller is sure to get through to someone else for query resolution.
They can also choose between warm or cold transfers. The former involves an agent briefing their colleague before transferring the call. During the latter, the agent redirects the caller to a colleague without any context. 
This gives staff a level of autonomy to collaborate with different teams across the world, sharing tips and tricks for better performance. 
Save on administrative costs and deliver better service
By integrating a CRM with your hosted VoIP system, you can save time on administrative work and deliver data-driven service to your customers.
Once your phone system is linked to your CRM, you can ensure that customer information is up-to-date and made available to all agents via the centralised system. 
Having updated information at their fingertips allows them to offer superior support at all times, thereby improving the customer experience your brand delivers. 
Enjoy easy and seamless calling with Acefone
Acefone's hosted phone system allow you to choose features that suit your business needs, facilitating flawless and meaningful communications at all times.
VoIP phone systems offer flexibility to businesses, allowing them to save money without compromising on call quality. What's more—Acefone's transparent billing system means you're always in the know of how much and what you're paying for. 
To find out more, contact us at 0800-084-3663 or drop us an email at [email protected] to discuss your options.

Acefone provides a broad range of cloud communication services to businesses of all sizes, which includes Hosted Phone Systems, Free Phone Numbers, and Cloud Contact Center Solutions. Being the UK's leading provider of VoIP service provider, we always strive to provide excellent customer service and high-quality custom solutions to our customers.
https://www.acefone.com/blog/wp-content/uploads/2022/01/How-Acefone's-Features-Ensure-Easy-and-Seamless-Calling_.jpg
422
750
Acefone Editor
https://www.acefone.com/blog/images_acefone/logo.png
Acefone Editor
2022-01-31 12:03:43
2023-02-17 11:14:52
How Acefone's Features Ensure Easy and Seamless Calling?