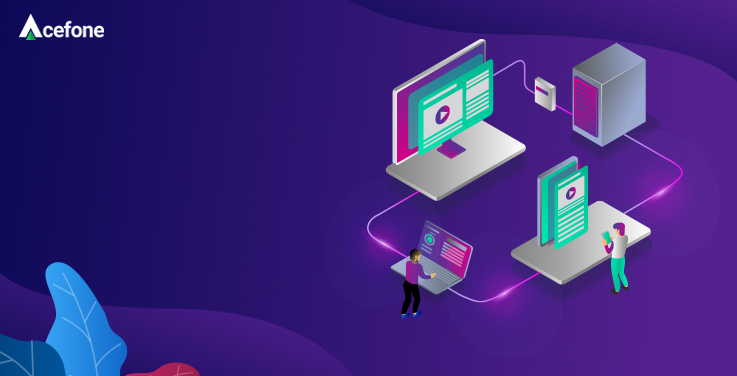 Buying a hosted telephony system should be stress-free and straightforward, your provider should do all the hard work for you so you can simply "plugin and play" and start using all the amazing features hosted telephony brings. When choosing a hosted phone provider, you should make sure you are getting the best deal possible with everything you need to get the best return on investment.
At Acefone we pride ourselves on providing the best possible service to all of our customers with the most feature-rich hosted phone systems created specifically to customers needs. Here are six reasons why you should choose us when you buy your hosted telephone system.
Support 24 hours a day, 7 days a week
A hosted phone system will be new to most businesses, so there might be times when you have questions or just need some guidance on how to best use the features of your hosted phone system. Acefone are here 24 hours a day, 7 days a week to answer your calls and solve any issues you might have. From simple questions about running your phone system day to day to more complex technical questions; we can solve your queries quickly and efficiently so no matter what time of day it is your business can keep going.
Bespoke phone systems for each customer
At Acefone, we know one size does not fit all; so we do not simply supply the same phone system to every business we work with. We take time to really get to know our customers and their individual needs and wants from their hosted phone systems and deliver completely bespoke systems to match these needs. This means our customers are not wasting money on features and other elements they might not need, but are making the most of their budgets and getting the best possible return on their investments.
Hosted phone system experts
Our team are experienced in delivering cloud-hosted telephony and have done this for a long time, so they know all there is to know about hosted phone systems. We pride ourselves on our service, and our team continue to develop their skills all the time so they can provide you with the best possible support. Acefone experts keep at the forefront of technology so we can pass our knowledge on to you as a customer; we are proud of the work we do, and we invest in our staff, so our customers benefit from the best possible service.
Exciting features to add to your phone system
With Acefone's hosted phone systems, you will not just get a reliable, trustworthy telephone system; you will also benefit from a wide range of exciting and business enhancing features. Acefone can offer virtual assistants to take your calls when you can't, send voicemails to emails to keep a record and make sure you do not miss a thing, change your number to a freephone number and so much more.
Our features are what really sets our phone systems apart from our competitors, with plenty to choose from you will be spoiled for choice. You are also free to pick and choose which features suit your business and can add and remove these from your plan with ease.
Keep control with our online portal
We give you all the control with our easy to use online portal, which gives you access to detailed analytics about call costs, agent performance, call recordings and more. You can use this online portal to keep an eye on everything going on in your business, and this can be used to manage a hosted contact centre from wherever you are in the world. No matter where your agents are in the world, you can stay in touch and monitor their performance; plus you can use call recordings from the online portal to help train your new starter staff.
If you want a hosted phone system which you can rely on, from a provider you can rely on then Acefone should be your first place to call. We pride ourselves on our customer service and expertise in providing hosted telephony, and our support team would love to discuss your telephony needs. Simply call on 0800-084-3663 to get started.

Acefone provides a broad range of cloud communication services to businesses of all sizes, which includes Hosted Phone Systems, Free Phone Numbers, and Cloud Contact Center Solutions. Being the UK's leading provider of VoIP service provider, we always strive to provide excellent customer service and high-quality custom solutions to our customers.
https://www.acefone.com/blog/wp-content/uploads/2020/02/why-to-buy-hosted-telephony-from-acefone.jpg
376
737
Acefone Editor
https://www.acefone.com/blog/images_acefone/logo.png
Acefone Editor
2020-02-04 05:30:37
2021-08-02 15:03:22
5 Reasons Why You Should Buy Hosted Telephony From Acefone