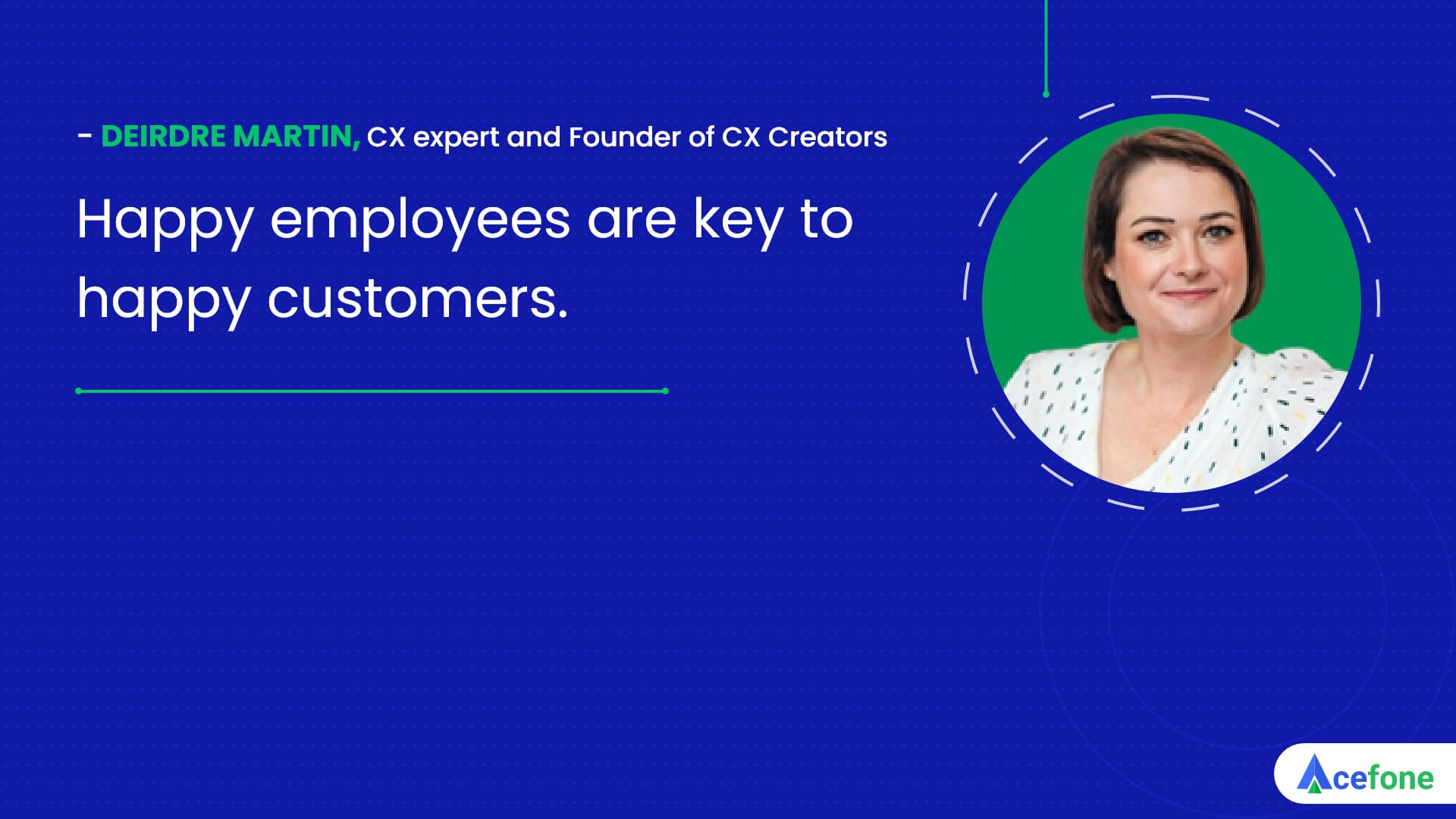 In a world where technology is becoming increasingly affordable, customer experience is one of the biggest differentiators among SaaS players.
There is one thing, however, that most tech companies miss: If your employees are disgruntled or poorly looked after, they will never be able to keep your customers happy. Reasserting this belief, CX expert Deirdre Martin says, "Employees are assets of a business and their performance determines how well the customer experience is going to be."
This is just one of the many insights that Martin—who is also a renowned author and founder of the CX Creators group—shared. Read on to find excerpts from our interaction that are sure to help you address your CX concerns.
What is the first step to a flawless customer experience strategy?
The best way to make your customers feel more valued is to get to know them better. It allows you to have a better understanding of their lives and their problems. You can use that knowledge to align your services and objectives with the client's needs and enhance their experience with your business.
When you have clarity on your ideal customer's pain points, problems, goals, needs, desires, typical behaviour and so on, and when you can visualise what their idea of success is, you will then be better able to build a brand that customers will flock towards.
Suggest three tips for businesses to keep up with ever-evolving customer expectations.
Get feedback from customers to know whether you're meeting their expectations or not. Use metrics and insights to gain that feedback and work on the lagging areas.

Listen to employee complaints as importantly as customer complaints and take action, especially on those (complaints) that overlap with each other.

Personalising services lets you connect with customers on a stronger level. It establishes two-way communication, which benefits both of you remarkably.
I believe that helping staff with active listening and empathy skills will help in any situation. 
Once the employees have been supported in this way, and a policy has been put in place around what constitutes a complaint, the front line staff should be empowered to offer instant resolution to customers. Be that monetary refunds, goodwill gestures, or some other quick-win that will satisfy the customer.
Here are a few pitfalls that can frustrate customers:
Passing them to different agents

Making unfulfilled promises

Having the customers repeat their problems

Robot-like messages with no human essence
I came across a survey conducted by the World Economic Forum in October of 2020, the results of which surprised me. 94% of the survey respondents (organisations) stated that they expected employees to pick up soft skills on the job.
This came as a surprise to me, because whilst I knew this to be true for small business owners, many larger organisations have the means and know-how to educate and support their employees. The very fact that they don't use their means and know-how indicates that these organisations brand's values are not reflective of their brand's culture and reality.
The companies that have the best leaders tend to be known as the companies that deliver the best customer experiences.
What advice would you like to give to businesses for running a successful call centre?
The best advice to run a successful call centre is to help your employees and they will help your business. Give them a voice, and listen actively to what they say.
Your employees are as important to you as your customers. They are the bridge that connects you to your customers and help you get acquainted with their needs.
Spend more time on coming up with ways to enhance the employees' experience in the company. Work with your employees to improve their soft skills, confidence, mindfulness, and empathy. This practice gradually leads to higher conversion rates and customer loyalty. 
A key skill which employees must work on is active listening. It not only enhances their connection with the customers, but also makes the customers feel more valued.
How can businesses optimise cross-functional collaboration in their workplaces?
Something that I would have advocated for during my banking career was for people to spend a day in the life of another within the organisation. This can help with:  
Identifying ways to collaborate with colleagues to better serve clients

Creating a positive culture by assisting others from different departments

Understanding the pressures, processes and systems available to those in other departments
It's helpful to bring the concerned stakeholders together while working on the customer experience strategy. This inclusion is bound to bring different perspectives on how to formulate the best strategy. Collaborations like this help cross-functional departments create seamless journeys.
What's your take on improving customer response time to win customers?
With the current advancements in technology, the audience has an abundance of options to choose from. This makes the first step of putting a foot in the door of the customer's mind a difficult task. 
Additionally, people are less patient now with significantly reduced attention spans. Studies show that the average person today has an attention span of only 8.25 seconds!
This means that any customer interaction—whether it's answering calls, responding to emails or chats—needs to be done instantly.
My team and I won customers in the bank over the years when other institutions were less responsive. I also believe that customer response times can be managed by communicating clearly with customers at the outset of a relationship.
Any strategies for businesses to improve the hybrid work culture?
Businesses that are working on a hybrid model currently should focus on improving their communication—both, internally and externally. Resolving employee issues must be given equal importance than those of customers. If there are businesses that haven't yet worked on this, now is the time.
The second step is to ensure that employees are provided with adequate support to deal with customers when working from home. Be it tools, software, accessories or equipment that allow employees to interact better with customers.
For more information on how you can utilise the power of the cloud to enhance your customer's experience, write to us at [email protected] or call us at 0800-084-3663.
Ritwik is a fitness enthusiast with a bachelor's degree in computer applications. He discovered his passion for storytelling while writing articles for his fitness blog. After which, he decided to switch to full-time writing, exploring his capabilities as a professional writer. He is now practicing his skills as a senior content writer at Acefone Software pvt ltd. to bring words to life.
https://www.acefone.com/blog/wp-content/uploads/2022/07/deirdre-martin-on-how-happy-employees-are-key-to-happy-customers.jpg
1080
1920
Ritwik Raj
https://www.acefone.com/blog/images_acefone/logo.png
Ritwik Raj
2022-07-25 07:34:59
2023-01-30 12:51:58
Expert Opinion: Deirdre Martin on how happy employees are key to happy customers