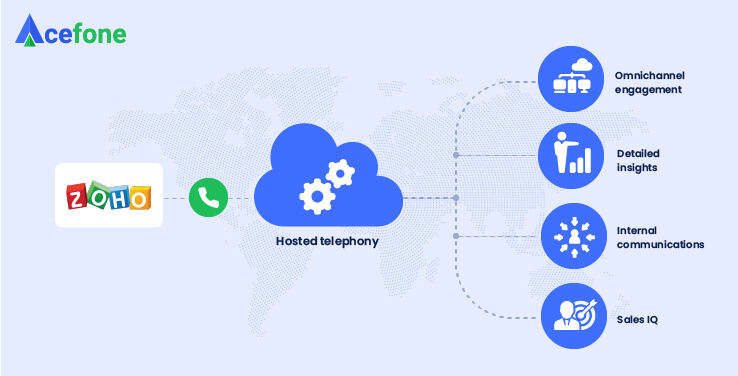 Zoho's Customer Relationship Management (CRM) is an award-winning omnichannel platform that helps businesses convert more leads, engage effectively with customers, and much more.
Zoho CRM brings together all of a business's customer service, communications, and information in one place. To easily access and refer to customer data on the go, you can integrate your hosted phone system with ZohoCRM seamlessly.
With the Zoho CRM integration, you can enjoy your feature-rich phone system with a wealth of data, analytics, and more on one user-friendly screen.
This article will explore how Zoho CRM integration can benefit your business and elevate your customer service to the next level. 
Read on to find out the top features of a Zoho CRM you can integrate with your hosted phone system. 
Enhanced mobility for your employees
These systems are highly mobile, making it easier for your employees to access the CRM on the go. When integrated with your hosted phone system, employees can pull up customer data anywhere they have an Internet connection.
In recent times, it has become essential for employees to be able to work remotely or on the move. Without the right technology, this can cause major operational issues. However, with the Zoho CRM integration, your staff has everything they need to connect with customers wherever they are.
Agents can also add new contacts to your CRM system, along with detailed notes, while they are out in the field. Thus, you will always be armed with relevant information requisite for successful lead conversion.  
Increases productivity
Features of Zoho CRM allow your agents to increase their productivity in everyday operations. 
You can make sure every conversation with customers is a productive one with Zoho business cards. With each inbound call, Zoho generates a business card with client information like the lead owner, lead status and displays it on the screen. 
The information provided on this business card acts as a cheat sheet and gives your agents a chance to quickly brush up on the customer's history and see the lead status, so they can efficiently steer the conversation.
Zoho CRM also comes with a  'Click to Call' function allowing employees to place a call to customers directly from the CRM system. Not only does this make it more convenient for employees, but it also saves them time, increasing their productivity.

With this function, your staff has access to customer data while placing the call on the CRM platform. Armed with this information, they are more likely to have a productive and engaging conversation with the customer. 
Omnichannel engagement
Integrated with a hosted phone system, Zoho CRM provides businesses with a centralised communication platform. You can combine social media, live chat, voice calls, text messages, etc. and yet, enjoy consistent communication. 
You can also keep track of all inbound and outbound communications and record them directly into your CRM system. This eliminates the mundane task of recording calls manually into your CRM. 
Despite their location, employees can quickly see the latest updates and have contextual conversations. This way, they can also ensure that all interactions with a customer are consistent, no matter the channel they use to get in touch.
Remember, audiences interact with business over different touchpoints. So, having a system that records all interactions in one place allows you to stay on top of your game and develop a strong strategy. 
Insights into performance 
Zoho's CRM integration provides detailed insights into the performance of your agents and even your strategies and campaigns. These insights can tell you how calls are dealt with, the number of calls received and much more.
Hosted phone systems on their own provide a range of in-depth insights. These include statistics about how long each employee has spent on a call, call costs, waiting times, and more. Combining these with the analytics of a Zoho CRM, you're able to leverage even deeper insights. 
With this data, you can see exactly what works and what doesn't. Thus, you're able to make informed decisions for your business, investing your money and time more effectively.
Not just that, Zoho CRM systems make it easy to create detailed reports on calls. You can also create customised reports and pull the data you need in a few clicks, ready to present at your next board meeting.
Sales IQ
Another way you can enhance your communications is with Zoho's Sales IQ. The engagement platform identifies your website visitors, interacts with them at different stages of the sales process via automated tools and enables you to interact with them via messages, voice calls, emails, and more. 
Thus, your support team can communicate with customers in real time, proactively reaching out to them using your website. 
These customers are warm leads and once you've connected with them, you can see exactly what they've been looking for and provide personalised service. This way, they get a taste of your service quality even before a purchase has been made.
All of this can be managed directly from your phone system, ultimately negating the need to re-record customer conversations in your CRM. All you have to do is provide quality service, the rest is taken care of by Zoho CRM's integration.
Internal communications
Internal communications are a key element of good customer service, and in turn, customer satisfaction. If internal communication lines are weak, it affects the team's ability to create a strong external communications strategy. 
This is where Zoho CRM comes into the picture—it helps foster team collaboration. 
Employees can work together by sharing updates through feeds, instant messaging, or on conference calls using their hosted phone system.
What's more—remote staff can even connect to your phone system and work with office-based employees to contribute to the processes and operations. 
Whatever your collaboration needs may be, integrating Zoho CRM with your hosted phone system is the perfect place to start.
Integrate Zoho CRM with your hosted phone system
The simple process of connecting Zoho CRM to your hosted phone system opens up a range of possibilities to better your business communications. 
If you'd like to save on administration time, provide better service to customers and enjoy feature-rich telephony, this integration is the way to go. However, you must make sure that your hosted phone provider is able to support this integration. 
To find out more about Zoho CRM integration, call us today on 0800-084-3663 or drop an email at [email protected] to discuss your options with our experts.

Acefone provides a broad range of cloud communication services to businesses of all sizes, which includes Hosted Phone Systems, Free Phone Numbers, and Cloud Contact Center Solutions. Being the UK's leading provider of VoIP service provider, we always strive to provide excellent customer service and high-quality custom solutions to our customers.
https://www.acefone.com/blog/wp-content/uploads/2021/11/top-features-of-zoho-crm-integration-with-hosted-phone-system.jpg
376
738
Acefone Editor
https://www.acefone.com/blog/images_acefone/logo.png
Acefone Editor
2021-11-25 10:45:02
2023-02-20 07:04:18
Top Features of Zoho CRM Integration with your Hosted Phone System