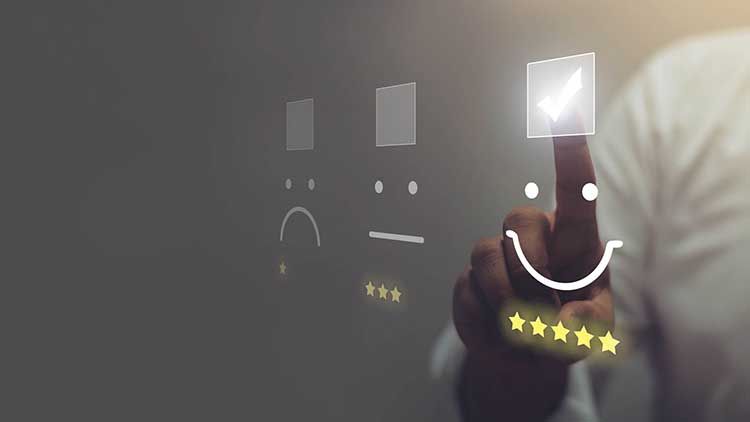 In a hyper-competitive market, the future of any business depends on the quality of customer service and experiences it delivers. A brand that delivers great experiences not only retains customers better, it is also likelier to benefit from positive word of mouth marketing and thus, enjoy more conversions.
As per studies, 32% of customers are willing to stop doing business with a brand they love owing to a poor experience. 
This study, among many others of similar nature, just goes to show how critical it is for businesses to not only fulfil but exceed the modern-day customer's expectations. 
One of the most important ways to ensure that your customers are never left disappointed is to train and motivate your team to deliver their best. 
Here, we have put together seven customer service quotes. These will help you inspire your coworkers to put their best foot forward and leave customers satisfied each and every time. 
"Thank your customer for complaining and mean it. Most will never bother to complain. They'll just walk away." ― Marilyn Suttle
This quote is a fantastic way to look at customer grievances. 
A complaint is an opportunity to strengthen your customer relationships and develop your business. They give you an insight into areas that need improvement.
Moreover, they allow you to connect with your customer on a more personal level. 
Let's face it, no business is perfect but how you deal with customer issues and concerns can be a dealbreaker in your relationship with them. Approach their problems with empathy, honesty and transparency, and they're bound to appreciate you for your human touch. 
Once you start to view complaints as opportunities, an often unpleasant part of your role can become something much better. 
"I have always believed that the way you treat your employees is the way they will treat your customers, and that people flourish when they are praised." ― Sir Richard Branson
The way you treat your team is the way they will ultimately treat your customers. 
If you encourage your employees to be the best that they can be, they will be more than happy to go the extra mile and deliver great service to your customers. 
Some ways you can appreciate your team members is by regularly complimenting them for a job well done, recognising their efforts via awards and rewarding them for great results. 
It doesn't end there, though. Valuing your employees extends to motivating them when they're not able to perform to the best of their abilities. Hold one-on-one conversations, arrange training and mentoring sessions, and even consider moving them to a role that suits their skills-set. 
A few ways you can help your coworkers do better is via cloud telephony features such as the intercom or the monitoring tools. When they know you're only a few seconds away from helping, they're likelier to be more confident in the service they deliver. 
"The brand for a company is like the reputation for a person. You earn a reputation by trying to do hard things well." — Jeff Bezos
Being the owner of a multi-billion dollar corporation, Jeff Bezos knows a thing or two about customer service. 
Times are changing and the reputation of a business is more important to customers than ever before. 
While your customer-facing team plays an important role in brand building, they can only perform as well as their tools allow them to. Thus, it is imperative that you equip your employees with the latest and most efficient solutions.
We cannot stress the importance of cloud communications solutions enough. Cloud telephony systems allow your coworkers to reach out to customers effectively and resolve their issues in a timely manner. 
Additionally, armed with CRM integrations and detailed analytical reports, agents can deliver empathetic and consistent support. 
"Good customer service costs less than bad customer service." — Sally Gronow
Research shows that acquiring new customers costs up to seven times more than retaining existing ones. 
If you ask us, with the right tools, customer retention and conversion both are easy.
Hosted phone systems have plenty of features that help you identify and convert quality leads and stay in touch with your clientele. 
One such feature is the user-friendly dashboard. Your team members can easily access all the necessary information, no matter their location or what device they are using. 
Your dashboard will give you a 360-degree view of your performance. You get detailed analytical reports that help you identify trends and patterns, call logs, agent performance data, and much more. 
This feature benefits you in two ways. Firstly, armed with comprehensive information, you can make better business decisions and create stronger strategies. Secondly, since the dashboard is easily accessible from any location and device, it is the perfect hybrid working tool. 
Your coworkers can continue to work remotely, from a location of their choice, and resolve issues proactively.
"The more advocates you have, the fewer ads you have to buy." — Dharmesh Shah
There's no better advert for a business than organic marketing such as word-of-mouth. Happy customers are often found to be recommending businesses to their families and peers. 
This could be during one-on-one interactions, through e-commerce platform reviews, and on social media conversation threads. 
Positive customer feedback encourages leads to purchase your products, helping your business grow. These newly acquired customers then go on to spread the good word further. 
If you can treat customers well and turn them into advocates of your brand, you will save money on marketing activities and have a healthy pipeline of leads coming through to your sales team.
"Quality in a service or product is not what you put into it. It is what the customer gets out of it." – Peter Drucker
No matter how well put together you think your customer service or products are, if the customer isn't getting what they need, all your effort will fall flat. 
Customers need constant attention through their journey with your organisation—from the initial enquiry through to post-sale.
Only when customer needs are met can you claim to have delivered effective service. 
A hosted phone system allows you to communicate important information to a wide audience in a cost-effective manner. So, you can deploy voice broadcasting or the bulk SMS service to notify your customers about offers, new product launches or a change in business hours.
Conversely, you can opt for a free phone number or local number and invite buyers to start conversations with you. 
Schedule follow-up activities, receive voicemail messages in your inbox and allow them to connect with you in an instant via the one-click dial button—the list goes on.
"If you are not taking care of your customer, your competitor will." – Bob Hooey
As we've stated before, personalised service, empathetic conversations and contextual interactions combine to offer a great experience at the best price.
Miss out on any one of these aspects and you risk losing your buyer to a competitor.
The cloud will allow you to provide superlative support even during periods of high call volumes such as a seasonal rush or peak hours of the day. 
Features such as music or message-on-hold, call queue announcements, and scheduled callbacks help you manage large inbound volumes. Additionally, you can easily scale up or down as and when required, without breaking the bank. 
Flexible scaling will reduce call abandonment rates, thus increasing your chances of conversion and sale. 
Get ready to elevate your customer service
If our collection of quotes has you pepped up to improve your service offerings, then our hosted phone systems can help you turn your dedication into reality.
Hosted phone systems give agents the ability to offer quality service wherever they are, and from whatever device they use. Support teams have consistent access to comprehensive information and can offer personalised service to your clientele.
With plenty of tools to help productivity and efficient working, cloud phone systems will make it easy for your customer service team to improve their output. 
To find out more, call today on 0800-084-3663 to talk to our expert team.

Olivia is an outgoing person who enjoys writing, is an SEO enthusiast, and often interacts with others in intellectual conversations. She enjoys listening to music in her free time. Connect with her on Linkedin
https://www.acefone.com/blog/wp-content/uploads/2022/02/Customer-Service-Quotes-to-Get-You-Motivated-This-Year.jpg
422
750
Olivia Trott
https://www.acefone.com/blog/images_acefone/logo.png
Olivia Trott
2022-02-03 05:03:56
2023-02-17 11:12:32
Customer Service Quotes to Get You Motivated This Year