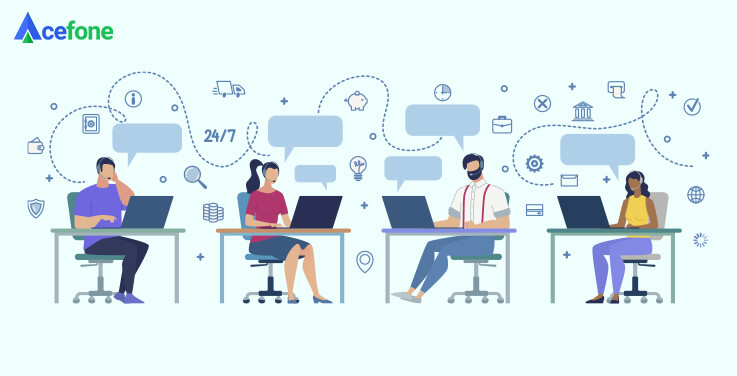 Table of content
→ Rise of virtual call centres
→ Speech analytics: future of actionable big-data
→ Extension of self-service options
Change is inevitable. 
Over the years, customer demands and expectations have changed and evolved considerably. Moreover, the concept of consumer experience has taken a whole new dimension. 
In this saturated industry, quality of service is often a key differentiator for the company. Automated operations and digitised customer-service have taken over. The future calls for a complete transformation in the way contact centres operate.
However, your performance depends on some crucial factors like Customer Satisfaction Score (CSAT), first call resolution, reduced wait times and most importantly, responsiveness to buyer needs. 
Keeping in mind the continuous change in call centre strategies, let's take a look at the trends we're expecting for the upcoming months and years.
1. The rise of virtual call centres: a new wave of remote working
Imagine a contact centre set-up. If you visualise rows of desk-bound reps wearing headphones and rigorously typing away all day long, you may need to come out from under your rock. One of the latest business trends on the rise is the remote call centre. 
According to Buffer's 2020 State of Remote Work report, 98% of employees want to continue to work remotely for the rest of their careers.
Additionally, the global outbreak of COVID-19 has greatly contributed towards the 'work from anywhere' model. Virtual call centres are benefiting both the companies as well as the employees. 
While the former is able to maintain business continuity, the latter enjoys the flexibility of working from anywhere. Since a COVID-free future is still unforeseeable, remote working is likely to stick around for a considerable while. 
2. AI is everywhere and here to stay
Artificial intelligence has already become an integral part of call centre operations. According to this report by PWC, 54% of executives believe that AI has increased productivity in their businesses. The technology has streamlined processes across sectors, which is why enterprises are increasingly adopting it for better customer engagement and experience.
Chatbots can fetch insights about clients' buying patterns, interests, shopping experiences, and preferences. Artificial intelligence in this industry will be a massive success in the coming years as people want quick automated responses to their problems. Its popularity will only soar with the technological innovations that are yet to come. 
3. Reforms in speech analytics: the future of actionable big data
Real-time analytics are an essential part of the call centre industry. They offer actionable insights about consumer preferences and opinions and help spot market trends and potential problems. Coupled with the advancements in speech analytics, consumer data over phone calls is now easy to analyse. 
With speech analytics, businesses can deliver better customer service more efficiently. As more and more companies are deploying speech analytics in their call centres, technology is improving exponentially. This will ultimately result in higher consumer satisfaction and generate more revenue. 
In fact, many vendors have already started incorporating similar technologies to analyse text messages and social media interactions. This trend is likely to flourish further in the future, owing to its compliance and quality assurance.
4. Extension of self-service: helping customers help themselves 
Customer service today is vastly different from what it was a decade ago. People don't just want to get their queries resolved, but also wish to build a relationship with the brand. Simply making support phone calls and writing emails are now considered outdated practices. A lot of users look forward to resolving their queries on their own. 
Therefore, businesses have come up with strategies to empower their clientele with self-service options. An IVR equipped with an extensive knowledge base, how-to guides and videos, and frequently asked questions (FAQs) eliminates the need of agents for basic queries. 
Let's look at the numbers. 
67% of customers prefer self-service options instead of interacting with a service representative.

81% believe that self-help options are a competitive advantage that keeps them satisfied with their current chosen vendor.
5. From call centres to omnichannel contact centres
Communicating with contact centres is easier than ever these days. Omnichannel support solutions address shifting buyer needs—even outperforming traditional legacy call centres. There has been a shift from phone calls to other communication channels, including web chat, email, and social media.
In fact, social media platforms have become the frontrunners because of their convenience in raising and resolving queries. With the abundant availability of smartphones and mobile apps these days, the focus is on extending customer services via phone apps. A multi-channel approach is likely to dominate in the future by providing consistent service across touchpoints.
Consider these statistics: 
Nine out of ten customers want an omnichannel experience with seamless service between communication methods. –

UC Today

A

whopping 86% of customers

now expect service conversations to move seamlessly between channels. 
Looking forward
With constant advancements in technology and ever-evolving client demands, call centres need to remodel their support strategies. Thus, businesses must focus on extending high-quality service. 
Next-gen contact centres must emphasise on:
Providing fast, reliable and accurate information across all channels.

Increasing efforts to achieve customer satisfaction and retention.

Reduce contact centre complexity and create easy and accessible forums.

Provide an overall smooth user experience.
Contact our sales team at 0800-084-3663 or drop an email at [email protected] to know more!
Kritagya Pandey is a creative and technical content writer, editor, and strategist. She has been writing on customer experience, customer service, artificial intelligence, cloud communication, and more.
She invests her time researching the current business, market trends, and studying about social media strategies.
https://www.acefone.com/blog/wp-content/uploads/2020/09/trends-in-new-age-contact-centre.jpg
376
737
Kritagya Pandey
https://www.acefone.com/blog/images_acefone/logo.png
Kritagya Pandey
2020-09-25 08:34:23
2022-04-26 06:30:04
New Age Contact Centres: 5 Trends To Know